Specifications 
Model
FOLD-6
Spectrum
V1 Full Spectrum
PPF(light output)
1848 μmol/s
Wattage
660 Watts
Efficacy
2.8 μmol/J @277V AC
Coverage
4x4 Feet;
Fixture & Dimensions
43.52"L x 41.93

"

W 

x 3.44

"H

Driver
Designed by us and manufactured by Sosen
Power Cord
6ft long
AC Input Voltage 
120-277V AC,347-480V AC,50/60Hz
Input Current
5.8A@120 V AC

2.6A@277 V AC

2.1A@347 V AC

Max Operating Temperature
104°F / 40°C
Mounting Height
≥ 6" (15.2cm) Above Canopy
Thermal Management
Passive
Dimming
0-10V Dimmable
Weight
15.87lbs/7.2kg
Life Span
>50,000hours
Warranty
5-Year Warranty
Medic Grow Fold-6 Full Cycle 660W LED
Providing 4 x 4 ft for both vegetative and flower, Medic Grow Fold 6 LED grow light for indoor plants supports all stages of the plant's growing lifecycle, whether used in a tent for personal growers or chained together with up to 75 pcs  of fixtures in a large commercial operation.

This indoor plant grow light has the popular design of 6 lighting bars focused on distributing more light as even as possible across the plant canopy. Plus, this LED grow light offers V1 fully programmable spectrum to adapt to each phase of the plant cycle. High efficacy of 2.8 µmol/j and up to 660 wattage power consumption contribute to higher efficiency growing operation.

The PPFD for this light is also quite impressive, 1123 µmol/m2/s at 12" distance and 845µmol/m2/s at 24". That's enough to boost your plant's yield according to a 20-40 mole of light per day requirement. Besides that, it is dimmable from 100% to 40% so you may easily adjust the intensity of the light for the veg and flowering phases.

Our latest LED grow lights for indoor plants suit many kinds of growing operations. If you're looking for full-spectrum LED lights to use indoors or for commercial growing, this is one of the most cost-effective and efficient products on the market.
Features:
Highest output white chips and OSRAN red chips;
Full Spectrum for full cycle growth;
Efficacy up to 2.8 μmol/J;
High PPF - 1848μmol/s;
Daisy Chainable - up to 75 lights;
Dimmable - OFF- 40%-60%-80%-100%;
660w Power Consumption;
6 Bars 4X4 feet Coverage;
180° Foldable Easy Installation - plug & play.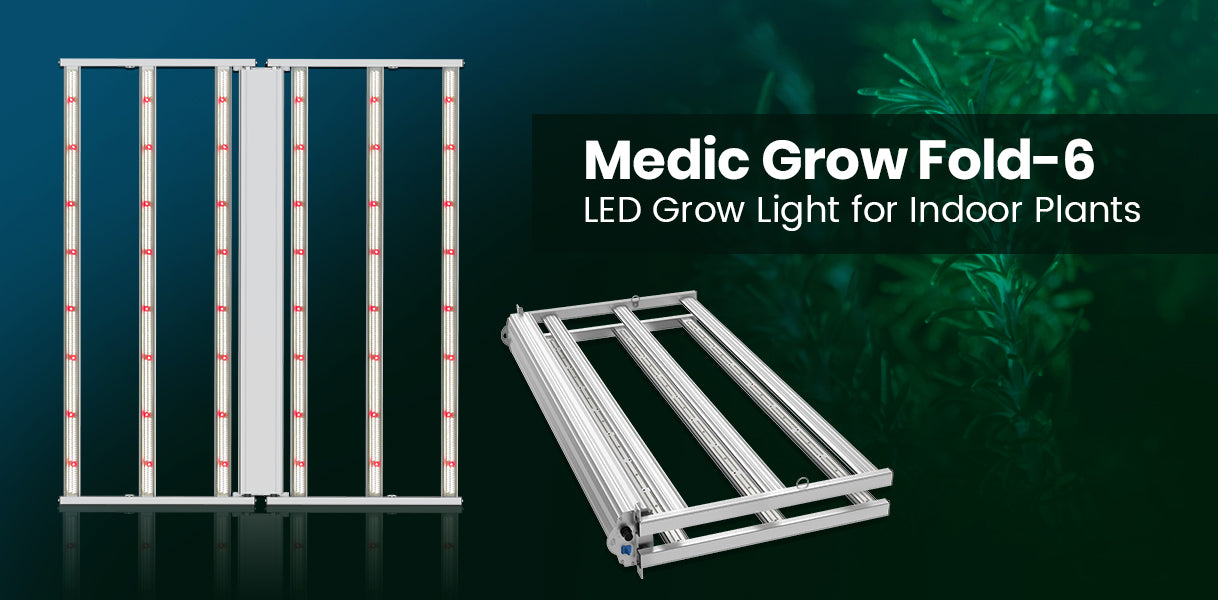 Full Spectrum for Full Cycle Growing
Like Fold-8 Full spectrum LED grow light, Fold 6 replicates the spectrum of our sun and outputs a broad, consistent and significant wavelength in the range of 400 to 700nm that can grow through entire plant life cycle. It helps your plants to grow healthier and yield better harvests by producing high energy-efficient, low heating consumption and even light distribution.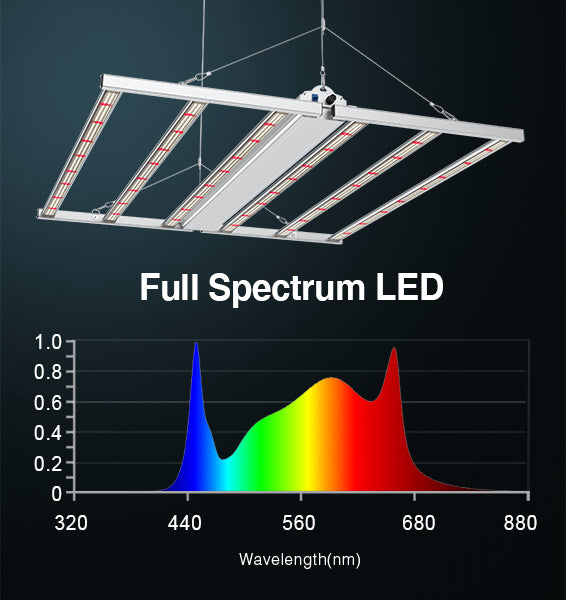 40%-60%-80%-100% On-board Dimmer
Fold 6 660W LED grow light can be dimmed. It has a four-level dimming knob from 40% - 100% to adjust the brightness according to the needs of plants at different stages. Remember turning the knob to EXT while you need to connect the Fold 6 light with an external lighting controller.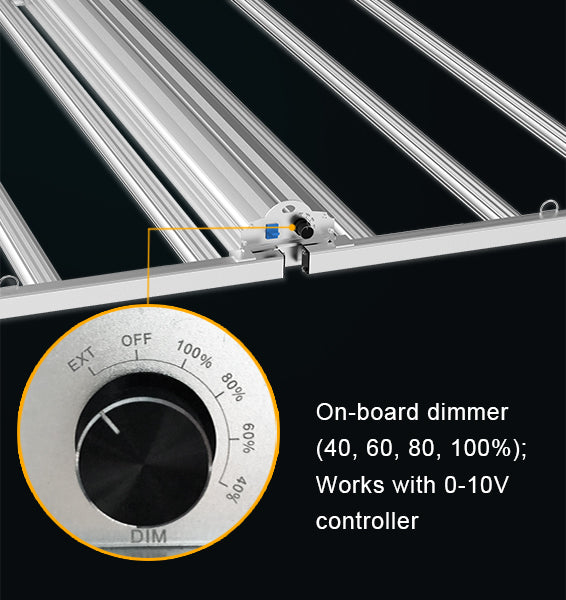 Even PPFD with 6 Bars Design
We tested the PPFD of Fold 6 in a 4x4 grow tent. As always, it should be noted that the reflective nature of the tent could increase PPFD readings everywhere - especially in the corners and edges.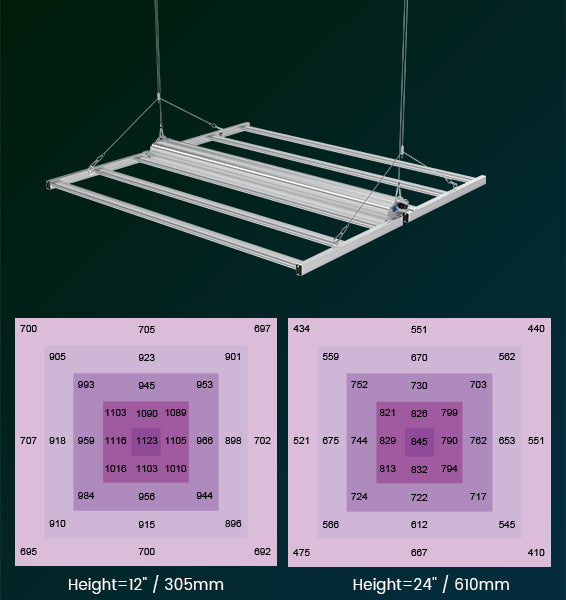 High PPFD at different height
Medic Grow Fold 6 distance chart. We recommend 18w fluorescent lamp hang around 6" for seedling stage, our light at 30" for veg and at 12" for flowering stage